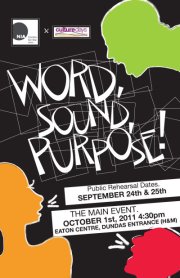 Word, Sound Purpose! is an art-based public interactive performance (a flash mob) organized by Nia Centre for the Arts and reConnexion Artist Collective in partnership with Westview Collegiate.
We will be taking to the streets of Toronto on Sept 30th, 2011 disrupting public space and performing "BBM" by David Delisca and "Love Uncut" by Lola Bunz, reppin for our community's young, dynamic poets, spoken wordist and emcees!
Rehearsal dates are September 25th (1-4pm) at the Centre for Social Innovation Annex. Meeting Room #1 (720 Bathurst Street. Toronto, ON)
LineUP & coaches includes::: Motion, David Delisca, Lola Bunz, J-wyze, Djena Laguerre and YOU!
Excerpt from LOVE Uncut by Lola Bunz
But see this the part of love that I don't understand/
Where goes the love for that young boy tryna be a man?
Mama works 2 jobs gotta make them dollas/
Her Son's had a few dads but never had a father/
Open your eyes love cuz that's your first strike/
Oh wait I've heard this one before, they say luv bites…