An amazing experience working with director/emcee & artist, Eklipz of Storehouse Media/Crown A Thornz, DP Robby J and graf pioneer ZION to present this new "petit film" GRAF. Blending word, beats & vizuals, we wanted to drop a tight collabo that intertwined our artistic worlds into a multi-level creation.
With words that flowed outta my mind one sunset while riding the train, fused with the beatbox of King RC making music with his mouth, over a a soundscape created in the Kilzone, we took to the TDot & Steel City streets, underpasses, railways and alley ways to capture glimpses of concrete heiros that will most definitely "outlast our past."
What a thing to know that as GRAF was being conceived, officials in low places were plotting yet another attempt to institute the erasure of this artform from "public" spaces, with the latest "war on graffiti" policy, politics and tricks. Their mono-tones infused a counterpoint to the mood we were creating.
In the final days before its birth, GRAF took on a next level when I awoke one morning after staying up to re-watch the groundbreaking Hip Hop classic Style Wars. That nite, the art, voice & face of KASE2, the single-armed art pioneer featured in the doc, was replaying in my head. By A.M., DJ Son of Soul's early morning post appeared in my feed, announcing that the proclaimed "King of Style" KASE2 had passed.
Eklipz and I knew. That was the day for GRAF to be born, and shared with the eyez and ears of the soul dwellers who feel, know & live our culture.
BlessUP to Supa 83, Spott Music, IE, Kinky Kreations & Origin for the fresh sounds and vizuals.
And in reMemory of KASE2, and the true midnite writers and concrete scribes, we present :::GRAF.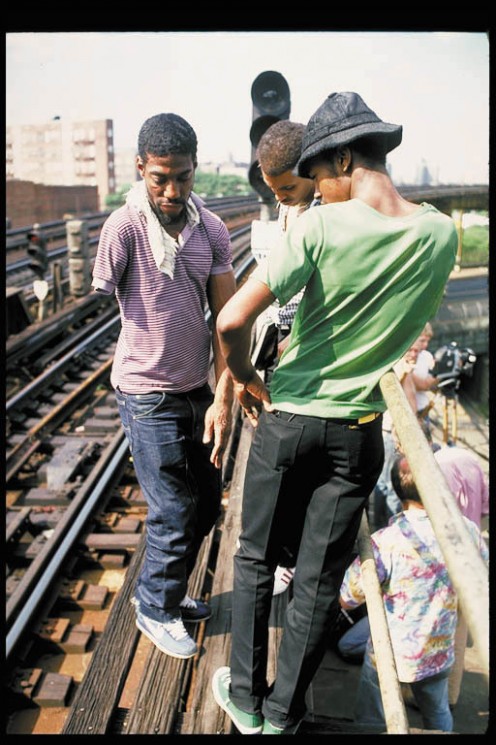 The King of Style KASE2 & DJ Kay Slay on set in tha Bronx, Style Wars, circa 1983.