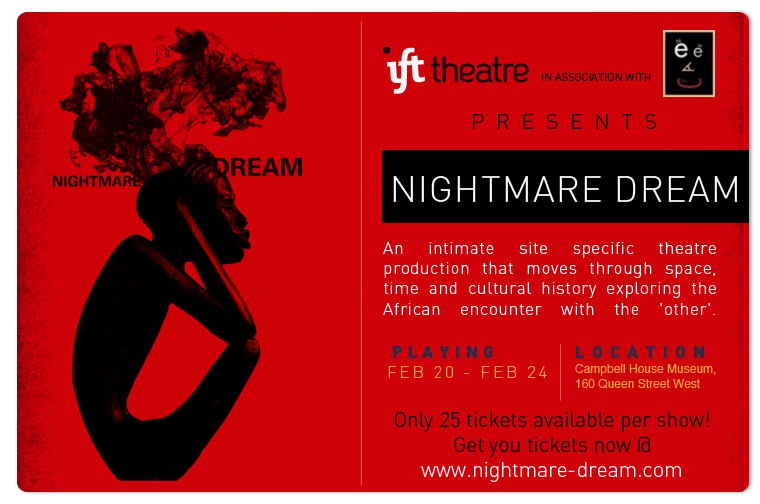 Toronto – NIGHTMAREdream premiers for African History Month 2013 at the TD Then & Now Festival, February 20 – 24th. Directed by IFT Theatre's Mumbi Tindyebwa Otu, and written by poet/playwright Motion,  NIGHTMAREdream is an intense multi-genre theatre production that moves through space, time and cultural history exploring the African encounter with the 'other'.
Set inside the historical Campbell House Museum, the last remaining building of the old Town of York (19th century Toronto) this unique theatre project features performances incorporating sound, movement and text traveling the intimate spaces of 200 year old rooms.
Audiences will enter the nightmare dream experience of the title character, Simon Dube, an African immigrant haunted by his disconnection to his traditional culture on the eve of returning to the country of his birth to perform the burial rites of his father's funeral. Simon's journey is an evolution of the African self that ebbs into high dreams and terrifying nightmares.
 Bold and surreal, 'Nightmare Dream' features an award winning cast and creative team.
SHOW TIMES
Feb 20: Preview:: Feb. 21: 8 pm:: Feb 22: 8 pm:: Feb 23: 2 pm:: 8 pm::                              Feb 24: 2 pm, 8 pm
Conceived & Directed by Mumbi Tindyebwa Otu:::Written by Motion
Featuring : Peter Bailey ~ Jane Miller ~ Pulga Muchochoma ~ Joshua Browne ~ Neema Bickersteth
Sound Design: Thomas Ryder Payne
Production Design: Snezana Pesic
Stage Manager: Jessica Derventzis
Assistant Stage Manager: Olga Petrik
Photography: Mariuxi Zambrano
*Peter Bailey, Jane Miller, and Neema Bickersteth appear with the permission of Canadian Actors' Equity Association