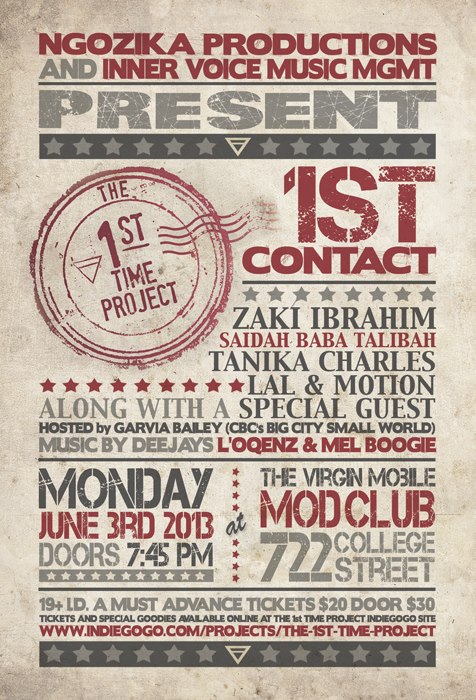 Toronto, ON – A killer line-up of female artists including Zaki Ibrahim, Tanika Charles, Saidah Baba Talibah, Lal, Motion, and DJ's Mel Boogie and L'Oqenz will be performing at Toronto's Mod Club on June 3rd to raise funds for the 1st Time Project.
The 1st Time Project is a trans-media initiative about women's sexuality.  Drawing on real women's 1st sexual experiences, the 1st Time Project ignites a conversation about what is really going on in women's sex lives, reaching beyond generational and cultural divides. The 1st Time Project is thrilled to bring a stellar line-up of extraordinary women together to support this sexy-but-sensitive endeavor.
The 1st Time Project began when Director Ngozi Paul interviewed her mother and grandmother about their 1st sexual experiences as part of a TIFF talent lab assignment.  On camera her grandmother confessed that she had been raped.  Paul began to wonder why this had never been discussed before, and this question started The 1st Time. Several years later, she shot The 1st Time short, produced by Melinda Deines and Brianna Brown.  The film has been broadcast on Bravo, and is having its theatrical premiere at the Encounters Film Festival in South Africa this June. With women's 1st times as a starting point, the project explores the mythology around female sexuality, as well as historical, cultural and pop-cultural influences through an interactive website, feature documentary and live performance piece.
TIX Available in TOronto at::
Play De Record – 357 Yonge St.
Kops Records – 229 Queen St West
Soundscapes – 572 College St.
Cosmos – 607A Queen Street West
Moog Audio – 442 Queen Street West