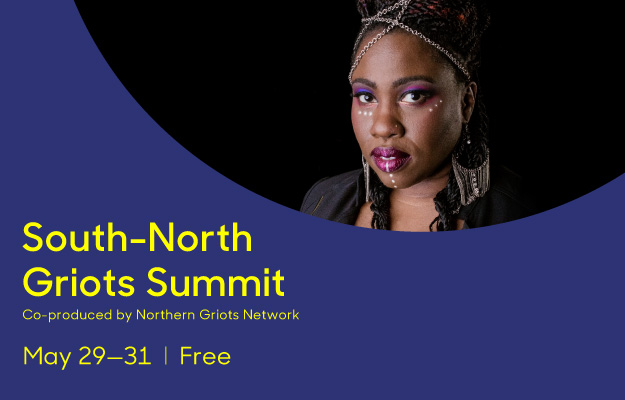 South x North Griots Summit, May 28th – 31st, Toronto
I'm so excited about working with an amazing team of artists, curators and cultural presenters to bring to you the South x North Griots Summit, taking place in Toronto this spring! This manifestation of over a decade and a half of visionary work initiated by the Northern Griots Network promises to animate this Megacity with the power of Word and Sound.
Canada's spoken word scene is recognized as world class, cutting edge and groundbreaking. In celebration of our vibrant and innovative legacy of poets and wordsmiths, the Northern Griots Network and Harbourfront Centre have collaborated to invite spoken word artists from around the world to share their powerful oral and performance traditions, and what's new and next in the lineage of spoken word. The Griots reminds us that the world is old but the future springs from the past.
#GRIOTSSUMMIT2015 is produced in association with NIA Centre for the Arts, LulaWorld Festival and IGNITE #TO2015 during the artistic lead up to the PanAm Games.
Hope to see you there!
– Motion
Program Highlights
Thu. May 28 | 08:00 pm – 11:00 pm
In The Beginning… **
Lula Lounge | 1585 Dundas St W. / Dufferin                                                                             For TIX: www.dwaynemorgan.ca/events
Fri. May 29 | 06:00 pm – 07:00 pm
ACTION! Stage to Screen: Spoken Word in Film & Video
Harbourfront Centre | Studio Theatre | 235 Queens Quay W.                                                FREE
Fri. May 29 | 08:00 pm – 11:00 pm
The Griots Lounge**
Harbourfront Centre | Brigantine Room | 235 Queens Quay W.                                           For TIX: www.tickets.harbourfrontcentre.com/calendar
Sat. May 30 | 09:00 am – 10:00 am
Opening Keynote
Harbourfront Centre | Studio Theatre | 235 Queens Quay W.
Featuring: George Elliott Clarke                                                                                                FREE
Sat. May 30 | 08:00 pm – 11:00 pm                                                                                 Spoken World: Features                                                                                            Harbourfront Centre | Brigantine Room | 235 Queens Quay W.                                                For TIX: www.tickets.harbourfrontcentre.com/calendar
Sat. May 30 – Sun. May 31 | 10:00 am – 6 pm | FREE
Interactive Workshops, Panels & Sessions – including Learn Out Loud: Spoken Word & Education, The Word on Community Engagement , Career Development: Taking Care of Business, Word Life: Youth InterAction Co-creation Workshop, Speak the Change! Spoken Word & Political Activism, The Griot Impact on Contemporary Diaspora, and more…
For Full Schedule, connect: www.northerngriotsnetwork.com/schedule.html     For Info: GriotsSummit@gmail.com