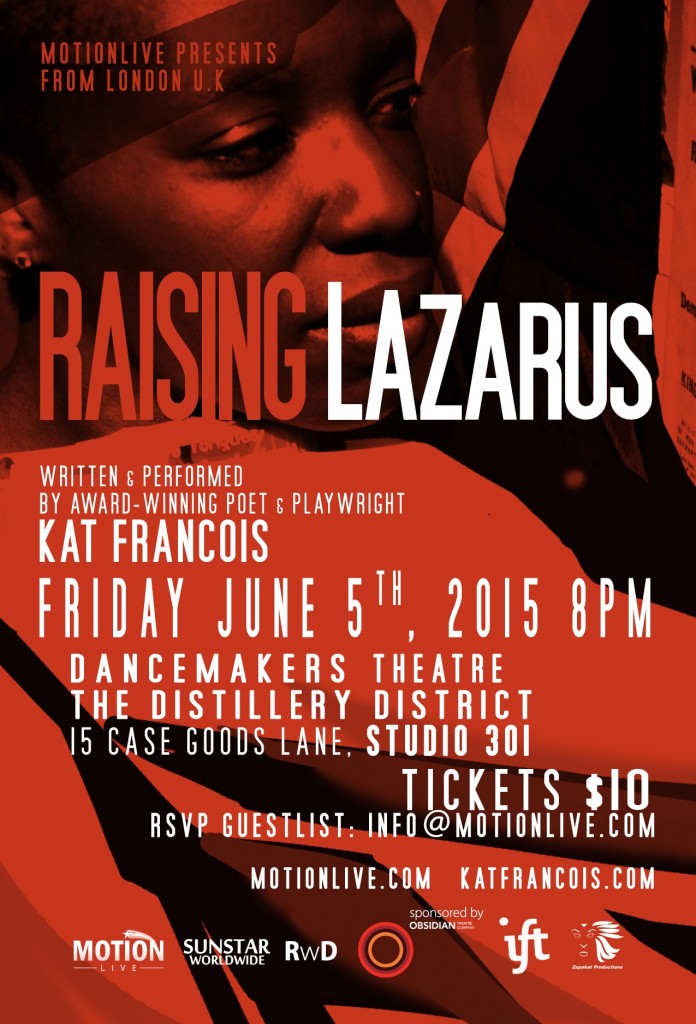 MotionLIVE presents award-winning U.K. Poet & Playwright KAT FRANCOIS starring in her riveting one-woman play RAISING LAZARUS.
From the streets of urban London, to the Caribbean island of Grenada, RAISING LAZARUS uncovers the secrets of a hidden lineage that leads to the frontlines of a brutal war, where young West Indian men are thrown into a futile fight for a country that doesn't love them. A rivetting story of heartbreak, adversity and the ultimate sacrifice.
Hot on the heels of her crowd-raising performance at the South North Griots Summit of Spoken Word in Toronto, U.K.-born KAT FRANCOIS is an award-winning performance poet and playwright. From World Poetry Slam Champion to published author of RYHME AND REASON, Kat Francois has toured her celebrated plays internationally, including Australia, Ireland, Norway and the renowned Edinburgh Fringe Festival.
Kat Francois is the producer of WORD4WORD, the long-running poetry presentation in residence at Theatre Royal Stratford East.
The Toronto presentation of RAISING LAZARUS is sponsored by OBSIDIAN THEATRE COMPANY
_________
MotionLIVE presents
from London U.K
RAISING LAZARUS
Written & Performed by Award-winning Poet & Playwright
KAT FRANCOIS
Friday June 5th, 2015 8PM
DANCEMAKERS Theatre
The DISTILLERY DISTRICT
15 CASE GOODS LANE, STUDIO 301
TIX: $10  RSVP GUESTLIST: info@motionlive.com
Sponsored by OBSIDIAN THEATRE COMPANY
Presented by
MotionLIVE in association w/ ift theatre, Zupakat Prod., RwD, SunStar Worldwide