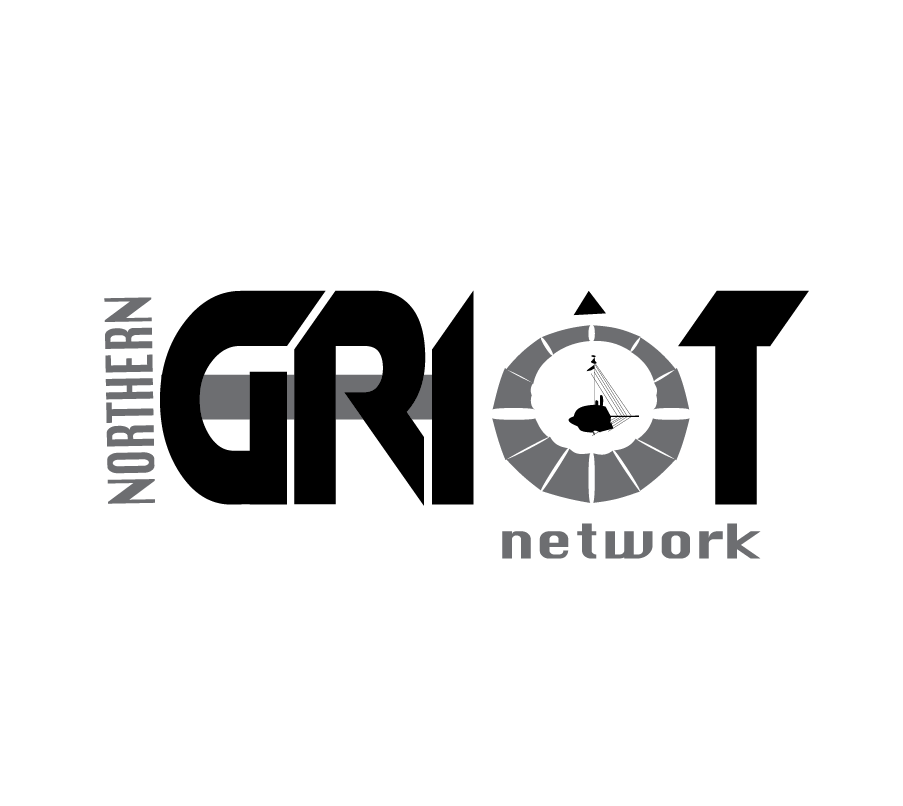 FOR IMMEDIATE RELEASE
VOCAL Canadian Spoken Word Poets Visit Ghana for Arts Festivals in August 2016
The Northern Griots Network (NGN) and Inkfluent are proud to announce the visit by the VOCAL team of Canadian spoken word poets to Accra, Ghana for the Nkabom Literary Festival (Aug. 14-17) and Chale Wote Street Art Festival (Aug. 18-21).
The visit represents a groundbreaking collaboration for the spoken word community in both Ghana and Canada. The VOCAL team includes leading figures in the Canadian spoken word movement, with backgrounds in Barbados, Trinidad, Guyana, Antigua, and Jamaica. Inkfluent and Chale Wote are the pre-eminent producers of innovative spoken word and multi-arts events in Ghana.
VOCAL stands for "Voices of Canadian Artists Linked," and is the first Canadian-African collaboration in an NGN series of exchanges since 2013 that include initiatives in Jamaica (Jamaican Poetry Festival), Trinidad and Tobago (Cascadoo Festival), and Canada (South-North Griots Summit in Toronto). Along with a performance of the hit theatre/music piece Oraltorio at Chale Wote on Aug.21, and a spoken word feature at Inkfluent's Vocal Portraits show on Aug. 17, the visiting artists will deliver an Aug. 16 workshop at University of Ghana, and meet Ghanaian artists for dialogue/networking.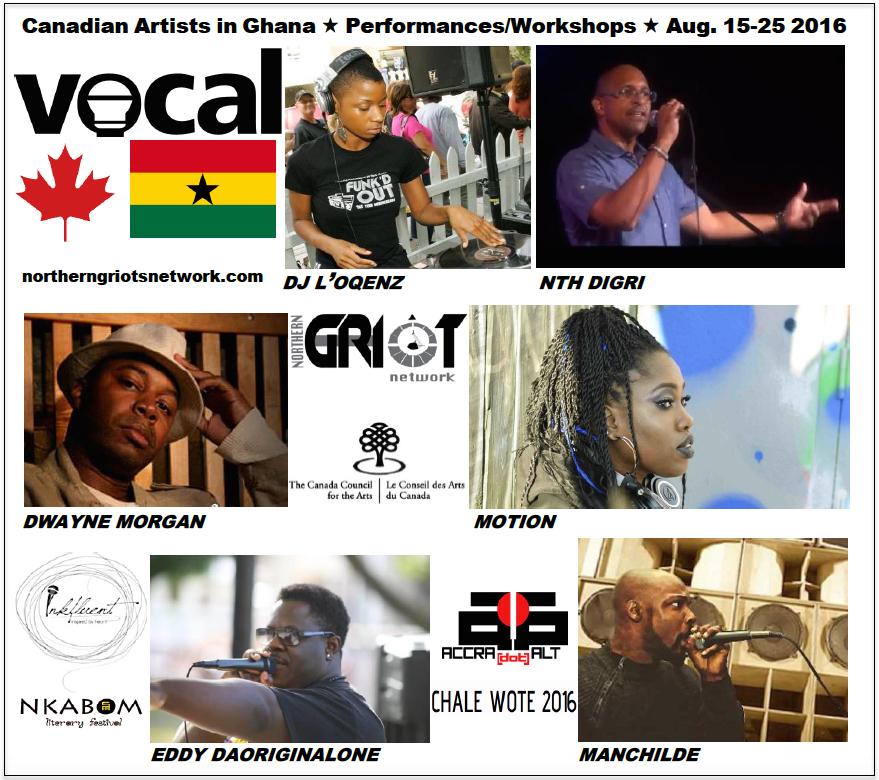 "As artists of Caribbean and African heritage, our team is looking forward to linking with Ghanaian artists and audiences in the spirit of exchange and exploration of contemporary and future currents in African and pan-African culture," noted NGN National Coordinator, Anthony Bansfield. "Added Inkfluent Director, Kwame Write, "We are tremendously excited to have these accomplished, internationally celebrated artists visit Ghana, and we see this initiative as the beginning of a fruitful partnership for artists from both nations."
Featured Artists
DJ L'Oqenz: DJ, beatmaker, composer of critically acclaimed 'Theatrical MiXtape,' Oraltorio
Dwayne Morgan: Music Award winning spoken word artist of Jamaican origin, author
Eddy DaOriginalOne: Beatbox poet extraordinaire, poet, and Trinidadian story-teller
Manchilde: Dancehall reggae/hip-hop MC, video artist/videographer/director
Motion: CBC Canadian Slam Champion, award-winning playwright, hip-hop MC
nth digri: Rapso/dub poet, Ottawa Slam Champion, recording artist, spoken word activist
For information on VOCAL: northerngriotsnetwork.com or facebook.com/southnorthGriots
For information on program/tickets, please visit Nkabom Literary Festival on Facebook and the Chale Wote website at accradotaltradio.com
Inkfluent is the biggest poetry movement in Ghana with thousands of followers across the country. Inkfluent runs Slam Ghana, an annual poetry competition festival for senior high school students, as well as The Write Experience, an art festival which involves the fusion of poetry, live music, contemporary dance, graffiti and short films. As well, Inkfluent runs several open mic shows, and has released a series of audio poetry compilations. For more information, contact Kwame Write at kwamewrite@gmail.com
The Northern Griots Network (NGN) is a collective of Canadian spoken word artists that networks spoken word poets and presenters. They also connect spoken word artists internationally to stimulate artistic growth, increase opportunities for spoken word worldwide, and support social engagement and advancement. VOCAL's visit to Ghana is coordinated by the NGN, and supported by the Canada Council for the Arts. For more information, contact Anthony Bansfield at nthdigri@gmail.com