Motion Does Banff: 4our Woman Play Developed at Playwright's Colony
4our Woman playwright Motion (Toronto) joins global theatre artists at the Banff Centre for the Arts.
"What a soul-changing experience. Building with playwrights, actors, dramaturgs, directors, creators and vision seekers, swaddled in the beauty of majestic mountains; this is a blessing that remains with me." 
4our Woman is a story of memory, migrations, identity, and inheritance, the entangled portraits of a deadwasher, a domestic, an inmate and a crown ward – of women who walk the precarious tightrope between death, rebirth, and the living in between. Each woman is reaching across the bonds of space and time for strength, sisterhood, and connection. The four women of the play, each at a seminal stage in her life, stand at the doorways of her rites of passage.
Poet, lyricist, emcee, Motion spans the realms of music, spoken word and drama,  composing works for screen and stage. 2013 playwright-in-residence at Obsidian Theatre, and a member of the Natural Resources Unit at Factory Theatre in 2011, her plays –  Aneemah's Spot and 4our Woman – have been seen and heard at the International  Black Playwright's Festival, bcurrent's Rock.Paper.Sistaz Festival, and Obsidian  Theatre's Development Series.
An award-winning emcee and poet, Motion's potent mix has taken her to the stages of Manifesto Jamaica, the Urban Music Awards, CBC Television, Luminato, Young Centre for the Arts, and HBO Def Poetry Jam. Her writing was recently featured at Nuit Blanch Festival's Our Hope for Children poetik portrait installation, and as playwright in the multi-arts co-creation Dancing to a White Boy's Song at the Summerworks Festival in 2011. Her play Aneemah's Spot (Motionlive/CricCrac) was featured in the 2012 Summerworks Festival, and went on to garner an RBC Award. She is the author of two books,Motion in Poetry and 40 Dayz  [Women's Press] and was recently published in Give Voice: Ten Plays by Obsidian Theatre's Playwright's Unit by Playwright's Canada Press. Her latest publication is as part of the collection In the Black: New African Canadian Literature [Insomniac].


"If you have a love or an appreciation for hip-hop, graffiti and poetry, then you will love this."
________________________________________________________________

"Toronto poet and emcee Motion and the homie Eklipz from Crown A Thornz hooked up to produce the visuals for her piece entitled "GRAF". The video is entirely shot & edited by Eklipz and features local graf legend Zion from the Bomb Shelter (Montana Colors Worldwide)."
http://www.thinkcontra.com/graf-a-spoken-word-joint-by-motion/
__________________________________________________________________________________________

MOTION'S SPOKEN WORD JOINT
"Check this brilliant video of Antigua's Motion…beat poet, spoken word artist, wordsmith…"
http://www.365antigua.com/cms/articles/arts
___________________________________________________________________________________________

Few artists on either the local spoken  word or hip hop scene can boast to have the skills to seamlessly navigate between both worlds. Toronto-born and bred artist Motion, is just such a rare talent.
Over the years, she has opened for such renowned artists as Mos Def, Wycelf Jean, Talib Kweli, Jill Scott and more. Her vocal chops have also been showcased on the soundtrack for the film, When Moses Woke (Itoti Productions) which premiered on Bravo! Television.
And to all that, add published author as well.
Motion recently launched her latest book of poetry entitled 40 dayz. A follow-up to her book Motion in Poetry, published by Women's Press in 2002, 40 dayz is an intensely personal and reflective exploration of her journey as woman, mother, lover and world citizen.
Still ever rooted in her Torontonian universe, Motion takes us back to her Antiguan and Bajan heritage to show how her family, friends & other individuals have shaped who she is.
Motion has a gift for bringing back days gone by through infusing her reminiscing tales with lyrical smells and scents of familiar experiences. As you are transported back with her in a funkadelic time machine, we encounter Malcolm, Maya and Alice along the way.
Her piece "dem say" is a prime example of how, in just a few lines, Motion takes us back to an idyllic and more care-free past.
But eventually, sure as the sun rises from the east every morning, innocence is broken, hope battles with regret and dreams are too often deferred.
Despite all of that, and perhaps because of those growing pains, one's sense of community remains a major pillar amid it all.
This T-dot community that Motion illustrates encompasses it all. From the busloads of people going along with their mundane existence, to the mournful mothers and guilty lovers, all play a part.
The bustling city landscape she describes is also sometimes a metropolis under menacing clouds. In "hedlines" we find a city under curfew where "somewhere a poet is detained" and a "high court decides the fate of men".
Motion depicts a post-911 world where "ownland security" justifies the oppressing rule of a police state. She longs to spend her Friday night watching "pre-war N.Y. on Sex and the City."
In a cold mega-city where "skyscrapers grow where green trees used to greet" and "good mornings are swallowed up down fearful throats and stuck-up tongues", we often find ourselves feeling suffocated.
But far from wallowing in despair, the bliss of passion, lust and love remains a permanent fixture in Motion's poetic cityscapes. From jonesing under the Bronx bridges by the Hudson River to fantasies of making love while riding the rocket in the T-dot, she leaves with this burning question: … where is the love?
__________________________________________________________________________________________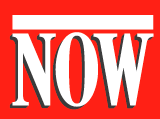 MOTION @ Harlem, Friday (June 8), 10 pm
by Jason Richards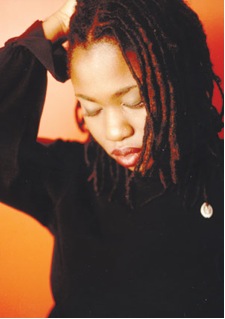 The most fluid flows, a great singing voice, cerebral lyrics and highly melodious dub and soul-based beats are only a few reasons to check out T-dot MC Motion. Also a spoken word performer and published poet (her book Motion In Poetry was lauded by George Elliott Clarke), she's a multi-talented, truthful artist.

photo by SOF Arthouse
_____________________________________________________________________________________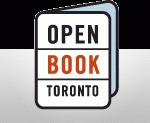 OBT BLACK HISTORY SERIES: MOTION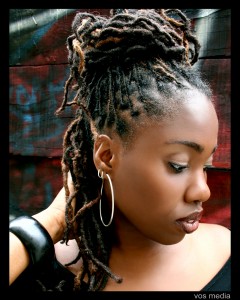 by Adebe D.A. February 22, 2011
As part of the Black History Author Highlight Series, Open Book: Toronto sits down to speak with renown Canadian poet, educator and hip hop artist Motion.
OBT:
When did you first discover the power of words? Did you write as a child?
Motion:
Probably before I could actually write it. I was always singing, talking, always had songs in my head, tape them on a recorder. We has a lot of records, and mashed up between all the music – reggae, calypso, dub, soul, funk, sound/tracks – was Last Poets, Louise Bennett, Richard Pryor, Linton Kwesi, Malcolm X. Isaac Hayes use to start his songs with these long soliloquies. My uncle was a poet. This is what I was hearing while I was growing. I started writing when I was probably around seven. I had a book, write about what I did today, stuff like that. But then it started growing into other things – writing songs, lyrics, rhymes and then poetry.
OBT:
What initially prompted you to write 40 Dayz?
Motion:
The seed for 40 Dayz grew when I was taking a poetry workshop, and Dionne Brand was teaching it. My challenge – to stretch my style, try new forms and write a body of work on a central theme. I wanted to write a collection where each piece connected, a journey. 40 Dayz represents elements of that journey – artistically, personally, spiritually, historically, the mountains and floods, rituals and rebirths.
OBT:
You have opened for/shared stages with such renowned artists as Mos Def, Wyclef Jean, Talib Kweli and Jill Scott. How have these experiences inspired your work?
Motion:
It's inspiring to share the stage with respected artists, to witness other artists at work and be a part of creating that energy. It's confirmation to keep pushing to the next level, and affirming how much the North brings to the table.
OBT:
It also seems that music factors deeply into your work, often in what are magical ways. Do you see poetry as a kind of musical language?
Motion:
I came up with DJ's, dancers, rappers, musicians. Music has surrounded and run through me, it's a passion. Poetry to me is one of the foundation elements. Its that space where word and music merge. It's visual and oral, read, heard. It's rhythm, beat, pitch, volumes, silence. And at the same time, it's literature, lyrical, comical, dramatic, epic. It's emceeing, storytelling, spoken word. It's loud and quiet. Music and poetry, word/sound, share an intertwined evolution.
OBT:
What makes a poem speak through the page?
Motion:
Voice brings a next level of expression to a poem, the volume, pitch, speed, tone, silence. The way a poem is written, styled on a page, does this too. It can be how the words are placed on the page, where the line breaks, how we decide to mis/spell a word. Its expressing the rhythm, the flow, the pause, and stretching the meaning/s, visually. It effects how a poem is read, heard and understood.
OBT:
You provide powerful spoken word workshops for youth. What goes into the process of organizing workshops? What do you think a strong workshop session is composed of?
Motion:
I love working with new talent. Community and arts organizations in the city are promoting workshops incorporating spoken word, poetry, hip hop: ArtStarts, Blockheadz, Urban Arts, A.M.Y. Project, Lost Lyrics, bcurrent, Women With Wordz and Literature for Life. It's a way to engage youth, introduce them to the art form, empower voices, tell stories, deal with what's going on personally and communally. In schools, the poetry unit has been one of the hardest to teach, so some teachers are opening up to spoken word and lyricism to engage students and show the poetic word is relevant, accessible and real. It's a valuable space for developing emerging writers and artists, and building a new generation of writers.
The main thing about workshops is providing a space to develop new talent and work from participants' previous exposure and knowledge of the art form. It's about finding a connection, and jumping off from there, in order to explore the poetry in everyday spaces, real life situations, personal emotions. It's also about creating a safe space to share, experiment and risk. After the brainstorms, free-writes, finding memory, exploring the senses and s/language, painting pictures with words, exploring styles, flow and stories, the goal is to inspire new insights, new voices and the next level of creation.
OBT:
Who are your favourite writers?
Motion:
If I had to start a list, it would begin with the writers that made me fall in love with reading in the first place. Maya Angelou, Rosa Guy, James Baldwin, Richard Wright, Langston Hughes. My mom intro'd me to the classics – Things Fall Apart,Miguel Street, If Beale Street Could Talk. I discovered Sonia Sanchez, Edwidge Danticat… and among that foundation, there's emcees, songwriters, playwrights, and numerous Northside poets and novelists, like Althea Prince, d'bi.young, George Elliott Clarke and JWyze.
OBT:
In honour of this special Black History interview series for Open Book, how do you see the role of spoken word/oral traditions within the larger project of recognizing, preserving and promoting the contributions of Black peoples and their collective histories, and what do these histories have to do with the future of poetic craft?
Motion:
In many ways, our oral/aural culture has been a mode of survival for us. When original texts where lost, kidnapped, destroyed, when our languages became contraband, when the audacity to read or write could be punishable by death, our voices, chants, songs, proverbs, stories, jokes, codes, remained a crucial communication. It still is.
The movement is documenting oral culture – rap anthologies, spoken word collections, scholars writing on toasts and dub. There is digital dissemination, global collaboration, audio/visual poetry, the perpetual recording of everything. And that raw mouth to ear experience continues – performance spaces where we share philosophies, ciphers where skills are challenged, open mics to try new work and discover the next new voices, slams where the poet and audience become a intertwined entity. The poetic innovation will continue to build upon that foundation.
OBT:
Do you have any advice for young or emerging writers trying to get their work heard?
Motion:
Write, perform as much as possible, discover what makes your voice, story, style unique. Experiment: try new things. Study the art of this – go to open mics, watch poetry online, listen, read poetry, old and brand new. Also, be independent; show your hustle, blog your work, record your aural pieces, make film shorts on your camera, promote a poetry jam or underground show in the spaces within your own community and beyond it. Create a chapbook, share it, sell it. Join a theatre workshop, poetry program, youth media collective, urban arts organization; this opens up opportunities to work with professional artists and mentors and develop your work. Builds your network. Do whatever you can to be heard, read, seen and felt, and more opportunities will come to you. And read, read, read. Know we are all blessed with a gift/s; take the time to know yours.
OBT:
Are you currently at work with any new projects? Where can we go to hear or find your work?
Motion:
I'm writing my new book. I'm developing dramatic/poetic work for theatre. My play "Aneemah's Spot" will be published by Playwright's Canada Press this spring in the Obsidian Collection. And I'm building my new show and mixing my live album. It's been a time of cre/ation. Soon come – dissemination. Log On: motionlive.com.
| | |
| --- | --- |
| | Motion's creativity extends beyond writing to the realm of spoken word and hip hop. Motion's career accolades include a MuchMusic nomination for Best Rap Video Award, and the UMAC Award for Best Hip Hop Radio Show. 40 Dayz is her latest collection.To read more about 40 Dayz, please visit the Canadian Scholars' Press Inc. website by clicking here.Buy this book at your local independent bookstore or online at Chapters/Indigo or Amazon. |
________________________________________________________
FATIMA'S JOURNAL March 2011
Our last book for the class is "40 Dayz" by the spoken word poet Motion. I'm really looking forward to our last lecture and reading as I can imagine that it will be quite the performance and the class will really enjoy it.But to hold me over until then, I have been enjoying watching the videos she has featured on her YouTube page, which mcsa1991 shared on our Discussion page.
Here is the link:http://www.youtube.com/user/MotionLiveTV
The first video featured on her page, called "Now Hear Dis Sampler" has such a great flow that it sounds like music. I actually watched this video before I cracked open her book, 40 Dayz, and it has really helped me to put her poetry into context. As I'm reading, I imagine her observing Toronto and creating her lines and imagery as the city's movement inspires her. After hearing her perform her poetry herself, I also try to apply the same rhythm to the poems I am reading.
Like Zwicky, her poetry is fluid and full of imagery. It reminds me of this great city and how it can inspire art. She is constantly referencing parks, streets, schools, "the cement skyline" (from "I-ku"), brownstones, and the subway (in "connect the t-dots"). It reminds me how inspiring the city can be and her words make the most ordinary and mundane aspects that I am so used to seeing come alive. This makes her poetry similar to the stories in Lien Chao's The Chinese Knot in the way both writers integrate Toronto as another important character. By including so many recognizable landmarks, both authors succeed at making their works more identifiable as Canadian and add a colourful dimension to their words. The reader who knows or has been to the places described can feel more connected to the author, while the reader who is not so familiar, can imagine, be transported to, and feel the vibrancy of Toronto.
Another aspect of her poems that is prevalent and interesting to me is her references to and descriptions of the female body. In "dream," she uses descriptive diction to describe a woman in comparison to the earth and nature:
" she was skin
she was tree
she was string
taut and tuned
hollow
opened by knife and strain" (20).
She also describes her role as a woman. In "dem say," she discusses her childhood and how she felt so grown up when she was still so young:
"they'd rock their heads and grin
say see
that girl
that girl is a woman
in the body
of a child" (19)
Particularly beautiful is her ode to Maya Angelou called "4maya". She describes the poets and writers that came before her and how their words helped her realize what an impact writing could have on her life.
In "dem say," she makes many references to Black culture (example: "angie davis on the wall….daddy pick my afro") that give me even more of an understanding to where she is coming from. But she also writes of a world outside the city, a world of chaos and confusion that goes on as Toronto is sleeping, in "hedlines": "somewhere/a poet is detained/a woman births the baby of a/ soldier who crouched in the bush" (26).
Motion's poems have so many themes that after reading each one, I feel like I am getting to know more about the poet and what inspires her. I will certainly be rereading them to find even more hidden truth, but I know that I am not getting all I can out of them by simply reading them on the page. Motion is a performance artist and I know that once she actually comes into our classroom and we discuss the meaning behind her work, it will deepen my understanding of their content and further help me appreciate their beauty.
Questions I hope to ask Motion in a couple of weeks or so:
How does living in Toronto affect your writing?
What kind of environment fosters the most creativity for you?
How did you start writing poetry?
Does the poem come alive to you when you perform it? How is this different from putting them together in your collection, 40 Dayz?
_____________________________________________________________________________________

From Tupac Shakur's celebrated book of poetry, The Rose that Grew from Concrete to the work of Canada's own aboriginal hip hop maven Kinnie Starr, rappers and hip hop artists have claimed a place in the poetic arena. And in fact, they have so for decades.
I recently spoke with Canadian hip hop artist and spoken word poet  Motion. She's published two collections of poetry, Motion in Poetry, (2002) and 40Dayz (2009). But she was already a force on the hip hop scene when her first book came out. So I asked the obvious question: Why did she decide to write a book of poetry?…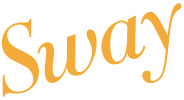 9 SEPTEMBER 2010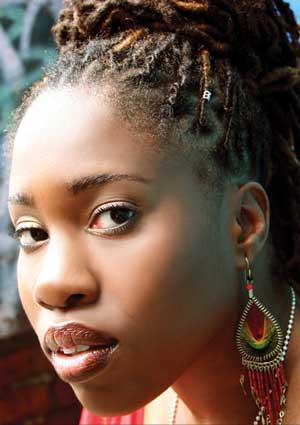 OCCUPATION Spoken word artist, writer, poet, mother
CONTRIBUTION Born in Toronto to Antiguan and Bajan parents, "Motion" is a reflection of her movement into the burgeoning worlds of spoken word and poetry. In 2002, Women's Press, Toronto, published her book of poems, Motion in Poetry, a chronicle that summarizes black experiences in a Toronto context. This year, Motion released 40 DAYZ: poemz by motion, a book that explores the significance of the 40-day timespan in spiritual, social and religious context. She will be releasing a children's book, WORDZ, in early 2009.
INSPIRATION "I'm really inspired by words. Everyone has a story to tell, so the texture and rhythm of words allows us to shape an existence or an experience. I love the "son-ic-ness" of words and the way they flow into each other. Whether leaping off the page or being spit into a mic, words are majestic — words have power."
___________________________________________________________
CANADIAN LITERATURE
revolushun in the t.dot: reviewing d'bi young and Motion
Reviewed by T.L. Cowan
The two recent publications from Women's Press reviewed here come from two of Toronto's most popular and respected-and dynamic-performance poets: d'bi.young.anitafrika and Motion. Both collections refreshingly move beyond the transcription model of books by performance poets, showing equal attention to the look and sound of their poetries, but they are very different books.
In the preface to her first collection, art on black, d'bi.young.anitafrika defines dub as follows: "dub is word. dub is sound. dub is powah. dub poetry is performance / poetry / politrix / roots / reggae" and identifies four elements of dub poetry-language, musicality, political content, and performance. Since then, anitafrika has elaborated three additional elements-urgency, sacredness, and integrity-which infuse and inform her own practice of dub. These additional elements signal the arrival of the visionary poetics found in rivers… and other blackness… between us, a book that confronts systemic racism in Toronto, the ongoing global effects of colonialism and imperialism, and pursues a vision of a just future. In "young black," anitafrika repeats the incantation "you are brilliant and beautiful and / strong and rare" in a poem in which puns play alongside explicit commentary on local, national, and global politics:
because I am more than the roundness of my ass
the width of my tits
the thickness of my thighs
the depth of my hips
the glimmity-glammity hold him tight
all through the night
is not necessarily my numbah-one priority
. . .
we
walking through metal detectors in school
that refuse to detect the rape and pillage
recolonized by the great
harris-tocracy
we
experiencing
the military's militarization
of high school and middle school education
police officers turned hall monitors.
Following in the dub tradition, anitafrika makes explicit her commitment to "revolushun." And more than even a political revolution, it is a "revolushun" in poetic language and form. Throughout the book, anitafrika switches between Creole and official "Standard English," and enacts dub's unofficial, emphatic intervention into this official world and its language. For the most part, anitafrika opts for a direct treatment of her subject; her poems operate primarily in the realm of what performance scholar Rebecca Schneider calls "explosive literality." At points, however, she ventures into more fragmentary and dramatic forms as in "when the love is not enough: the conversation i never had with billie holiday," a mournful love song in two voices, a dialogue that reflects anitafrika's skill as a playwright.
Overall, the poems in rivers embody anitafrika's seven elements of dub. Some readers may resist these elements and balk at the polemical tone of the book as a whole, but I encourage readers to consider these elements, and the poems they produce, in the context of our contemporary moment, in the context of the city section of the morning newspaper, and to reflect how this poet, and others working in the dub tradition, refuse to hide behind a veil of obscurity, and resist oppression with words, insisting that these words can do something more than sit on a page.
While anitafrika's poems read as the verbal weapons of a pacifist street-fighter, Motion's new collection, 40 dayz, is an urban, funk anthem for the T.Dot-Toronto in 2008. These poems focus mainly on a series of vignettes about life in Toronto's North End and are figured through a series of metaphors that at once embrace and reject, reflect and conceal their own trajectories. Unlike the straightforward, linear narratives of much of the popular spoken word of today, Motion's poems-which several times reminded me of the work of New York slammer-turned-sound-poet, Tracie Morris-mostly avoid the didactic approach in favour of vivid, image-based, but still political, long lyrics. While there is restraint here, I appreciate the revelations as well, and the irrepressibility and emergence that, for me, bring life to these poems. For example, "woman," a poem that reveals the torment of watching a friend undergo cancer treatment, lays bare the painful ritual of hospital visits:
when we'd say goodbye
it was just till tomorrow
another day of chat chatting
bawl bawling
another 24 hour crisis
a next episode of girl I got your back.
Similarly, and this is a passage that particularly made me think of Morris, " the calling" writes the heat of a summer night in Toronto along with a set of contradictions for which the poet has no solution:
buckles bones rip knots from limbs
lost and seeking
hearing home in a clearing
of dust
dancers    jeaned     skirted
sneakered and sandalled
sweaty and silent   speak
and cry as bodies wild out
wrenching against chains
leaping from ship boards
beating down kicking.
The only question marks on my copy of this book occur beside images that were, a few times, abstract to the point of disguise, and I couldn't figure out what the poet was hiding, or why she was hiding it. However, taken as a whole, this book brings the reader on a sometimes boisterous, sometimes contemplative bus ride across an urban wilderness, through Toronto, to Kingston's jails, and to South Africa. 40 dayz is a New Testament of Toronto poetry.
Finally, there is one similarity between these books that I want to draw attention to here. Both poets give significant weight to "womb" language and imagery, and both draw a generative power from what anitafrika calls a "wombanist" approach to poetry and politics. For some, this "wombanism" may cause a gender-essentialist alarm to sound, and certainly this is my first reaction. My Third-Waver feminist politics tell me that the danger of this "wombanism" is that it risks universalizing women via biology. But I wonder, too, if, as Motion's section title "transformashun" implies, these books mark a shift both in contemporary poetics and politics. Is it possible that we are in a post-anti-essentialist moment, and that these collections respond to the anxieties of dealing with the materiality of gender, especially the ways that these anxieties manifest in white feminism? This is a question that these collections refuse to answer, but I hope that it is one that others will ask too.
_________________________________________________________________________________________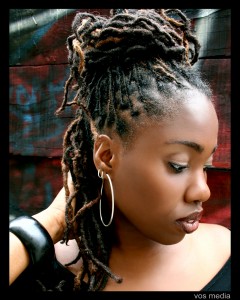 INSIDETORONTO.COM
Writer's new work examines time, culture & society
Spoken word artist, author and poet  'Motion'  recently released her second book 40 Dayz (Women's Press) as a followup to her critically acclaimed Motion in Poetry. As Canada's first hip-hop artist to release a book of verse, Motion continues to explore her place in Canada's literary canon. Her work fuses poetry, hip hop, reggae, roots and culture in a dynamic surge of literary talent.
"I was born and raised in Toronto, so I understand this environment and atmosphere," she says. "My parents are from Barbados and Antigua, so the islands are also a big part of my identity and consciousness. There is a duality, because I was born here but there is another part of me that is from where we call 'home'. I think that when you are coming up with that duality you become a pioneer within this society, because you are taking something from afar and establishing an identity of who you are as a first generation person in this society. This context has always had a big effect on me."
Motion's most recent work, 40 Dayz brings to light the interconnected contrasts of life, society, spiritualism and religion. Highlighting the significance of the 40-day time periods, Motion expresses the subliminal existence which links humanity.
"This book is built on the theme of 40 days; I just looked at the way that the concept of 40 days has been represented throughout time. Whether we talk about the physical, religious or spiritual sense, for some reason the concept of 40 days has special significance. If we look at Islam it is after 40 days that the fetus has a soul, and in Christianity Noah was in the ark for 40 days and 40 nights and Moses spent 40 days on the mountain. So for me this book is a journey that explores how the time can affect us."
The book has also given Motion the opportunity to reflect on her own beliefs and concepts about the growth and maturity which takes place through the journey of life.
"Given the challenge of writing on a particular theme this book has given me the opportunity to look at my own life, the ups and downs before you get somewhere," she says. "You have to go through your fire and you have to go through your flood."
As with all of her work, the ever-present role of culture past and present is examined in relation to modern life and existence. For Motion, there is always the ability to transcend time and connect with the past through language.
"The first poem in 40 Dayz is titled The Calling. It's based on watching dancers in a park in Brooklyn late at night dancing around drummers," she says. "So you have this urban setting juxtaposed with that ancient part of us that where just the beat of a drum can take you outside of the buildings and concrete and tar of the city to connect us to a deeper part of ourselves."
40 Dayz is available for purchase at book retailers across the GTA. For more information on Motion, visit: www.motionlive.com
Jon Sarpong is the Diversity Officer at Durham College and the University of Ontario Institute of Technology (UOIT). He provides independent diversity training and consultation for various organizations. Contact Jon by e-mailing jsarpong@hotmail.com.
__________________________________________________________________________________________

Rising Torontonian poet Motion's unique performance combines elements of hip-hop, soul, and spoken word
Toronto-based writer, hip-hop artist, and spoken-word poet Motion graced the stage at Trane Studio last week to launch her new book of poetry 40dayz.
Motion describes her unique style of spoken-word as an interactive mode of expression that combines preaching, storytelling, public speaking, and the vocalization of poetry. She fused her poetry with elements of hip-hop, jazz, soul, and Caribbean music, creating a unique and captivating performance.
Motion's undeniable stage presence and ability to connect with a crowd was evident as she rapped, sang, and recited a selection of her poems from 40dayz. A perfect complement was her full backing band, comprised of bass, drums, trumpet, and DJ L'oqenz, a staple throughout the set.
"I want to keep incorporating new instruments," said Motion, in a recent interview with The Varsity. "I love wind instruments and string instruments. Also, I want to keep building production—and I can't forget DJ L'oqenz, because DJs are musicians too. So I'm open to a whole bunch of different ways to do music, from live to digital, to manipulating sounds, to sampling."
In addition to her band, Motion was backed by three female vocalists, each of whom was selected to contribute to the tone of her work. Motion has performed with her musicians and singers for years, and she went to high school with most of them. "Almost everyone who performed with me that night I've known in some artistic capacity for a while. [Bluesy singer] Michelle Francis and I had a band in high school, so it was great to bring those people together. It was like a family affair, and I was very happy for the support and the opportunity to collaborate and bring this vision to reality."
A graduate of U of T in English and African Studies, Motion was exposed to an array of music from an early age. "My mother was always saying I could dance before I could walk. I've always loved music, I've always loved dancing. I loved expressing myself to an audience—singing, making up songs, writing."
With parents from Antigua and Barbados, her exposure to Caribbean music, soul, reggae and jazz was unlimited—it included such artists as Bob Marley, Roberta Flack, Sparrow, Isaac Hayes, and Parliament Funkadelic. These eclectic influences and her resulting musical vision are apparent in her arrangements. "Sometimes I [write the arrangements myself], but I also have input: I work with people to build instrumentation, but I'm definitely expanding myself into the production side. I surround myself with DJs and producers who give me input into production aspects…because I love music and I have a good sense of what I want to hear underneath my lyrics."
Whereas her first book, Motion in Poetry, was comprised of poems written throughout her life, the material in 40dayz came together over the course of a year.
"It was almost 10 years of writing that I had to choose from for Motion in Poetry. It's very lyrical, it has a lot of attitude, but it also has peaks and valleys where it moves from reflection to straight-up affirmation to exploring the whole concept of relationships and romance. [The first book] was sort of like my introduction as an emerging woman, and I think that with 40dayz it was [my] focus on a particular theme that opened my eyes to new things, to new stages of my own artistry and my own life."
As she began to craft 40dayz, Motion was influenced by her experience at the University of Guelph's Fine Arts program, where she had the chance to work with esteemed poets Dionne Brand, Judith Thomson, Tom Kane, and David Young. Motion credits Brand in particular for exposing her to contemporary poets with whom she was unfamiliar.
"I started thinking about how 40 days is often associated with trials and tribulations, going through your challenges and being able to go through that fire and emerge scathed but stronger. I think that's just reflective of life. It was a way of documenting a season that I've been through."
In addition to this theme of resilience, Motion has focused on different kinds of poetry. Not all of her poems are free verse—there's some haiku as well. She found herself compelled to place restrictions on her creativity, limiting herself to a certain number of lines or specific structure, to make the words as potent as possible. "I really admire Langston Hughes, the poet from the Harlem Renaissance. I was fascinated by the way he could use four lines and just blow you away, how he could say so much with so little. That was something I had in my mind [while writing this book]."
One poem in particular which stood out at the book launch was "Connecting The T-dots." This work won the CBC National Poetry Face-Off, where a poet is chosen to represent each of Canada's major cities, and listeners vote to pick the winner.
"The theme that year was 'love in your city' and when I heard that theme I thought, 'Wow, there's so many ways I can approach this,' because when we hear the word 'love' we always think of walking hand in hand, flowers, kissing and candy…but I wanted to explore love from the urban cities that I've seen, its good and bad aspects."
"Connecting The T-dots," alongside Motion's other works presented at the book launch, was performed with controlled passion. Motion is currently planning a summer tour across Canada and possibly the United States, where she plans to continue drawing in the listener through a musical and poetic journey of emotional peaks and valleys, leaving them on the edge of their seats.
http://thevarsity.ca/articles/18417
_____________________________________________________________________________________

By Joanne C Hillhouse – Thursday, November 19th, 2009.
A self-described daughter of the Diaspora, Motion's writing has a creole personality. That is, it is its own thing but informed by the mixture that helped create it; kind of like a pepperpot – and like the pepperpot, very satisfying. Her first collection Motion in Poetry and the accompanying Audio Xperience remain my favourite of her published works, but the leaner 40 Dayz has its merits. It's like a hit to the funny bone, there's nothing funny about it, but it lingers.
In fact, the very title 40 Dayz immediately suggests trial and temptation, recalling as it does a particular biblical 40 days and 40 nights of testing. My favourite section is WombStory and my favourite poem, I think – this changes – blues. Like the blues themselves, it sings of one thing while seeming to sing of another and does so in a tone at once mournful and yearning. My favourite line: "I was wood in wanting/lips opened/but no sound would come/unless you played me."
There has always been in Motion's writing an ownership of words – and a willingness to bend them to her will, a fearlessness when it comes to digging around in uncomfortable emotional spaces, and an acknowledgment of the power of her voice. That is even more so here.
Aesthetically, meanwhile, underneath her northern urban sensibility, there's that blend of her Caribbean – ie Barbadian and Antiguan – roots. "Hearing Short Shirt on the record player in Toronto, spending summers with my grandparents in Bolans, playing steel pan at Caribana, playing Mas' at Carnival, these are part of the experiences that live within me," Motion acknowledges.
In 40 Dayz, the images flicker in and out, sharp and precise but almost too quick to grasp; in my case a few readings were required for it all to begin to sink in. In the end, I found a collection that startles and questions – no, demands – as it pushes and prods at things.
In the New Orleans inspired, and the rains came, Motion writes,
"what happens when rivers retreat/and remains rain downstream/the smell of defeat".
In hedlines, a poem that appealed to the CNN junkie and fellow traveller wandering at the state of things in me, she writes "a poet is detained/a woman births the baby of a/soldier who crouched in the bush/on the stroke of now/small arms heave rocks … machines begin their ruthless grind/nite is quiet/I can't sleep."
In wombstory, she laments, "ghosts live in my womb" and she records their passing; "limbs reach for feeling/clench fists when hoses/seek them/mouth opened in no/and there soft/malleable bodies go."
And in why, of desperate acts, she asks, "did you get tired of getting by?"
In this collection, there is the burn of racism and the pain of letting go; an arduous labour through personal and societal torment. But it ends on a hopeful note, not in the way of fairy tales but in a way that those who struggle and come out on the other side know only too well. This section, epiphany has only two poems. To quote one question/answer/period in full "will there ever be another revolution/will there be another revolution/will there be a revolution/will there be revolution/will be revolution/will revolution/be revolution." It is a good example of how simultaneously spare and sharp the words are in this collection, and of the way this writer twists every last bit of meaning from the coming together of consonant, vowel, and sound.
It's a craft Motion has perfected since her days recording made up songs into a tape recorder and writing in the red diary given to her seven-year-old self by her mom with the charge to write in it every day. Since then, she's blossomed as award nominated hip hop artist, radio personality, and acclaimed Toronto-based poet – her Connect the T.Dots garnering her top billing, in 2002, at the CBC National Poetry Face-Off.
I heard Motion perform before I ever read her on the page, and always thought the impact of that accounts for the fact that her voice infuses every line. But now, I'm prompted to think it has to do with how the lines come to be, in her own words "flowing lyrics, off the top of the head into a mic, free-writing onto a page, and seizing those moments of inspiration that start with an image or line, and leads to a poem." They are meant to be heard, I think, and so jump up and announce themselves rather than lying on the page.
Motion, who first performed here a year ago at the Antigua & Barbuda International Literary Festival, hopes to continue introducing herself to the place where her family's navel string is buried. "My vision is to collaborate with Antiguan writers and musicians," she said. "I would love to do more readings and performances in Antigua. I definitely would visit schools, present creative writing workshops for youth and emerging writers." Meanwhile, wordsmiths and lovers of the word alike can pick up 40 Dayz and Motion in Poetry at Best of Books or online.