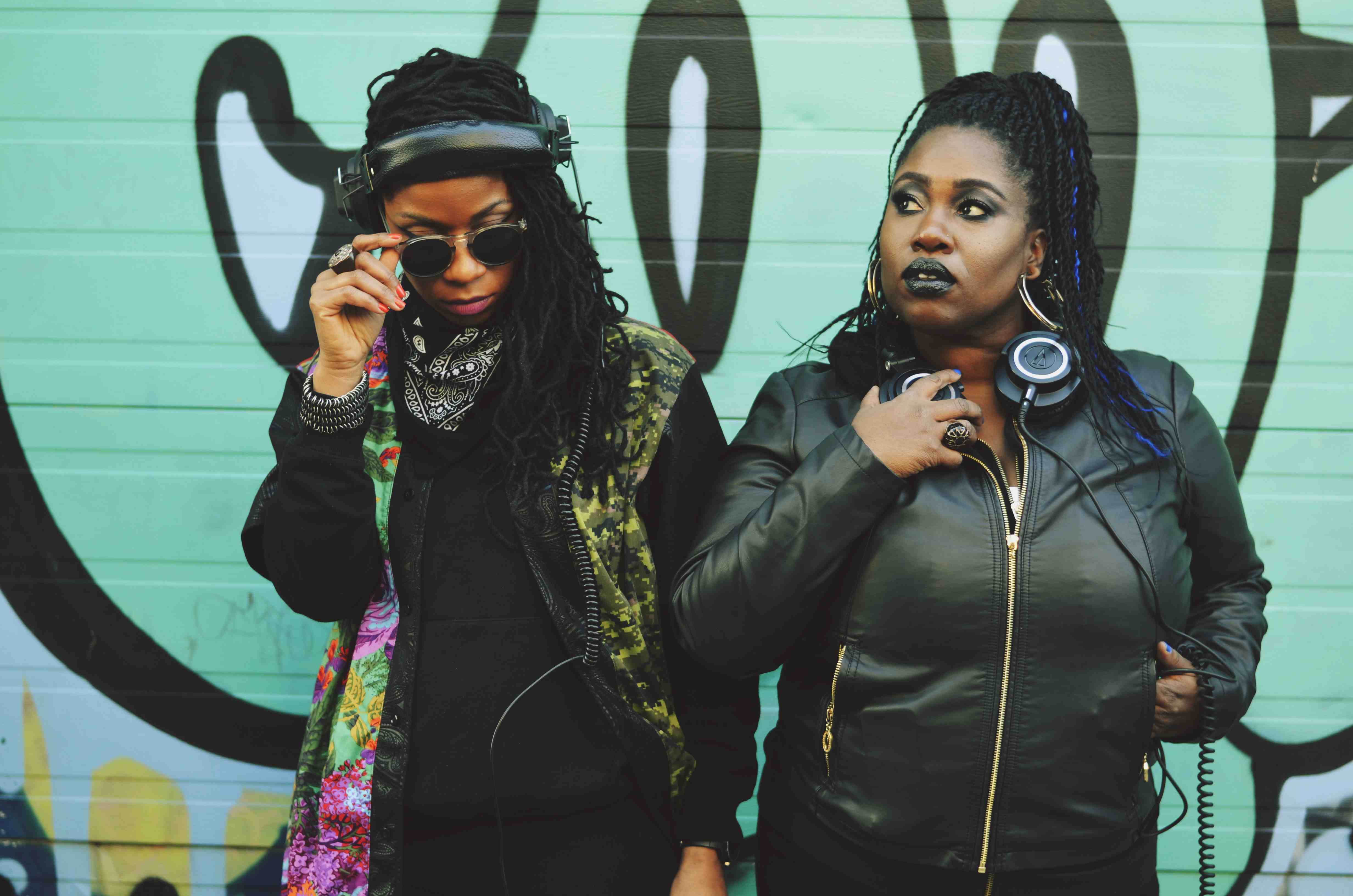 DJ L'Oqenz & Motion write, mix & feature in #ORALTORIO            photo: Zahra Siddiqui
Oraltorio: a Theatrical Mixtape
April 29 to May 12 2016 at Theatre Centre
#ORALTORIO: a Theatrical Mixtape is a coming of age story that traces the personal and collective journey of Northside-born girls-to-women as they grapple with identity, migrate through their histories, and manifest their lineages through ancient, contemporary, and Afro-futuristic soundscapes; finding the multi-layered voices of the B Girl and the DJ, as the traditional storyteller and drummer are reborn in their beats and rhymes.
#ORALTORIO riffs on a spoken word suite and a musical mixtape, fusing the worlds of an emcee/poet, DJ/composer and theatre director. Directed by MUMBI TINDYEBWA of It's a Freedom Thing (ift) Theatre, ORALTORIO is written by MOTION (playwright/ performer), with sound design and composition by DJ L'OQENZ (producer/DJ). Choreography is by ROGER C. JEFFREY.
Oraltorio: a Theatrical MiXtape is produced by MotionLive Collective, ift Theatre and Dave Crawford of Newace Entertainment.
Oraltorio is presented as part of the RISER Project 2016, a collaborative producing model by Why Not Theatre.
The new work brings together an an amazing team of inter-artistic talent that includes: Saccha Dennis (Assistant Director), Mel Hague (Dramaturge), Tara Mohan (Stage Manager), Mariuxi Zambrano (Costume Designer), Jackie Chau (Set & Props Designer), David Meshia (Associate Sound Designer), Ramon Charles (Video Designer), Remington North (Associate Video Designer), Andrew du Toit (Lighting Designer), Jeff Jones (Production Manager), Grace Phan (Production Assistant),  and Suzanna Derewicz (Social Media Manager).
TICKETS NOW ON SALE!
Theatre Centre – 1115 Queen St. West, Toronto
Ph: 416-534-9261
Box Office: 416-538-0988
boxoffice@theatrecentre.org
Performance Schedule:
April-29-16 Preview 8:30pm
April-30-16 Opening 9:30pm (Sold Out!)
May-01-16 Performance 1:30pm
May-03-16 Performance 7:30pm
May-04-16 Performance 7:30pm
May-05-16 Performance 7:30pm
May-06-16 Performance 7:30pm
May-07-16 Performance 1:30 pm & 7:30pm
May-09-16 Performance 7:30pm
May-10-16 Performance 7:30pm
May-11-16 Performance 7:30pm
May-12-16 Performance 10:45pm
For Press & Inquiries contact: info@motionlive.com