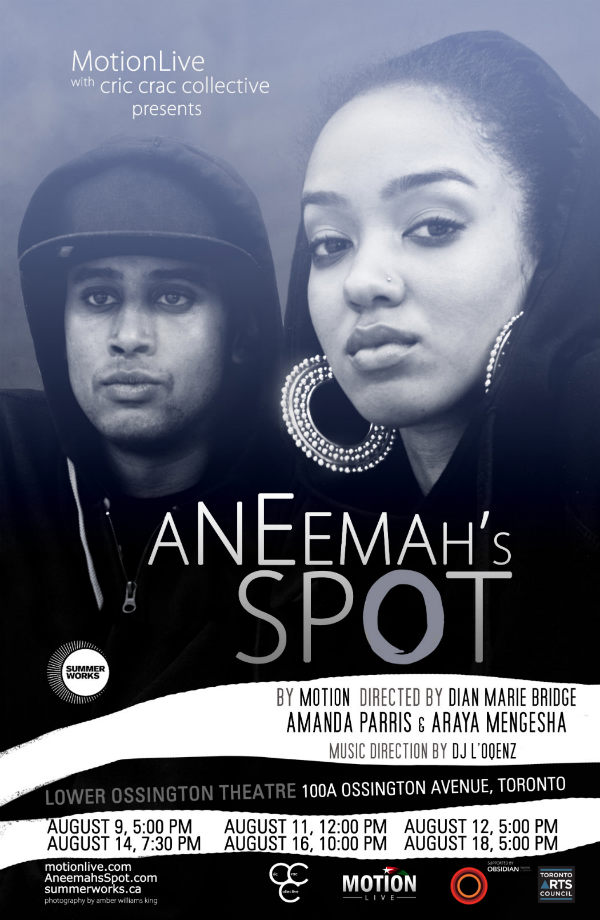 Toronto  – ANEEMAH'S SPOT wins 2012 Emerging Artist/Arts Professional Award @ SummerWorks.
After the hard work, dedication, raw emotions and subsequent humbling praises from reviews and audiences, it is with great pleasure and immense pride that the Aneemah's Spot team recently accepted a 2012 SummerWorks award.  The RBC Arts Professional Award recognizes "the work, craft and dedication of an emerging arts professional".
It was countless hours of rehearsals, brainstorming, sweat and emotions before Aneemah's Spot took to the stage on August 9th for Summerworks' 2012 festival.
Soon after, the critics were raving:
"It's a theatrical mix of dialogue, rhyme and spoken word that draws on the heart's strings revealing issues about violence, death, and loyalty." – Kia Welsh for Urbanology
"The writing (by MOTION) is exceptional.  Haunting performances by Amanda Parris (as Aneemah) and Araya Mengesha (as Wan) prove their talent as young actors, but also point to the skill and vision of director Dian Marie Bridge." +  "Authentic, entertaining and moving as hell"- Noelle Carbone for Theater Is Not Dead.
"The production engaged me from the first subtle moments. It was, as the audience member described it, intense, but it was also funny, touching, and profound. It was the perfect balance of sound and silence." –  Kyle Capstick, SummerWorks
"The story is strong and very true to life in the big city." – SummerWorks in Review
The audience reacted:
"Watched it this past weekend. Witnesssed MAGIC on stage"
"I loved this play! some people in the audience tonight spoke to the meaningfulness of the play to young people, but I am 42 and I tell you all the struggles and passions in the play are still issues and questions at any age… your play is universal and also ageless – someone said "timely" but I say timeless… I thank you for writing it and letting it live and breathe with others. I thank the actors, director and everyone involved to face life with courage, compassion, and love – and to bring it to the theatre!"
"Thank you all so much, what a gift this play was!"
10 shows, almost as much sold out nights, and several more emotional moments later, the dramatic story had its finale and, shortly after that, won the much merited award from the festival. There is often a sort of sadness when things end, but this prize undoubtedly put a smile on the face of everyone who gave their time and effort to make this beautiful play happen.
– August 2012 –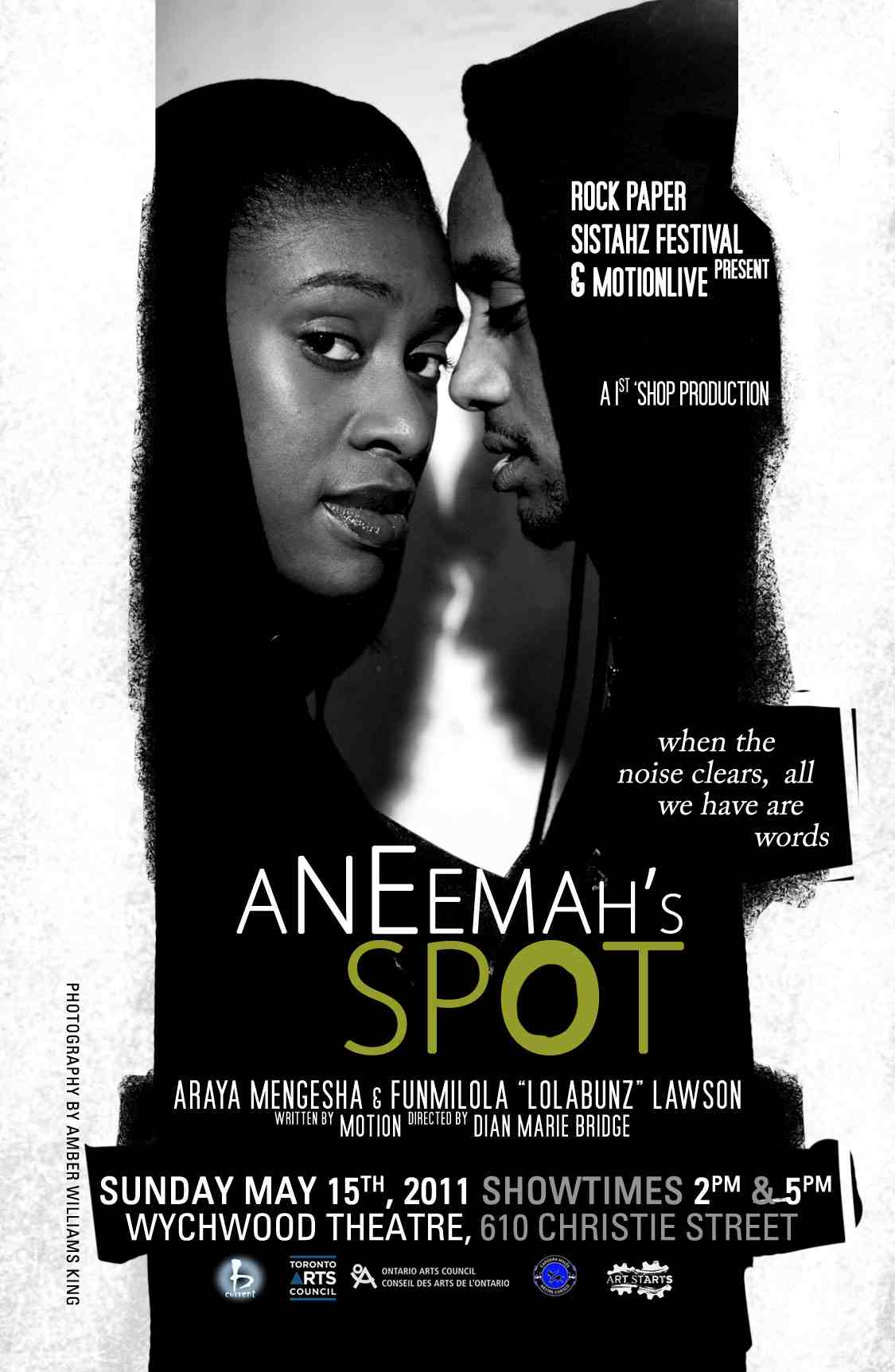 ANEEMAH'S SPOT: the Base is a stylistic mix of stealthy dialogue, rhyme and spoken word. A funeral brings Aneemah and Wan together to mourn, connect, and share their histories, as they are forced to let go of the past and choose how they will navigate life from these moments on.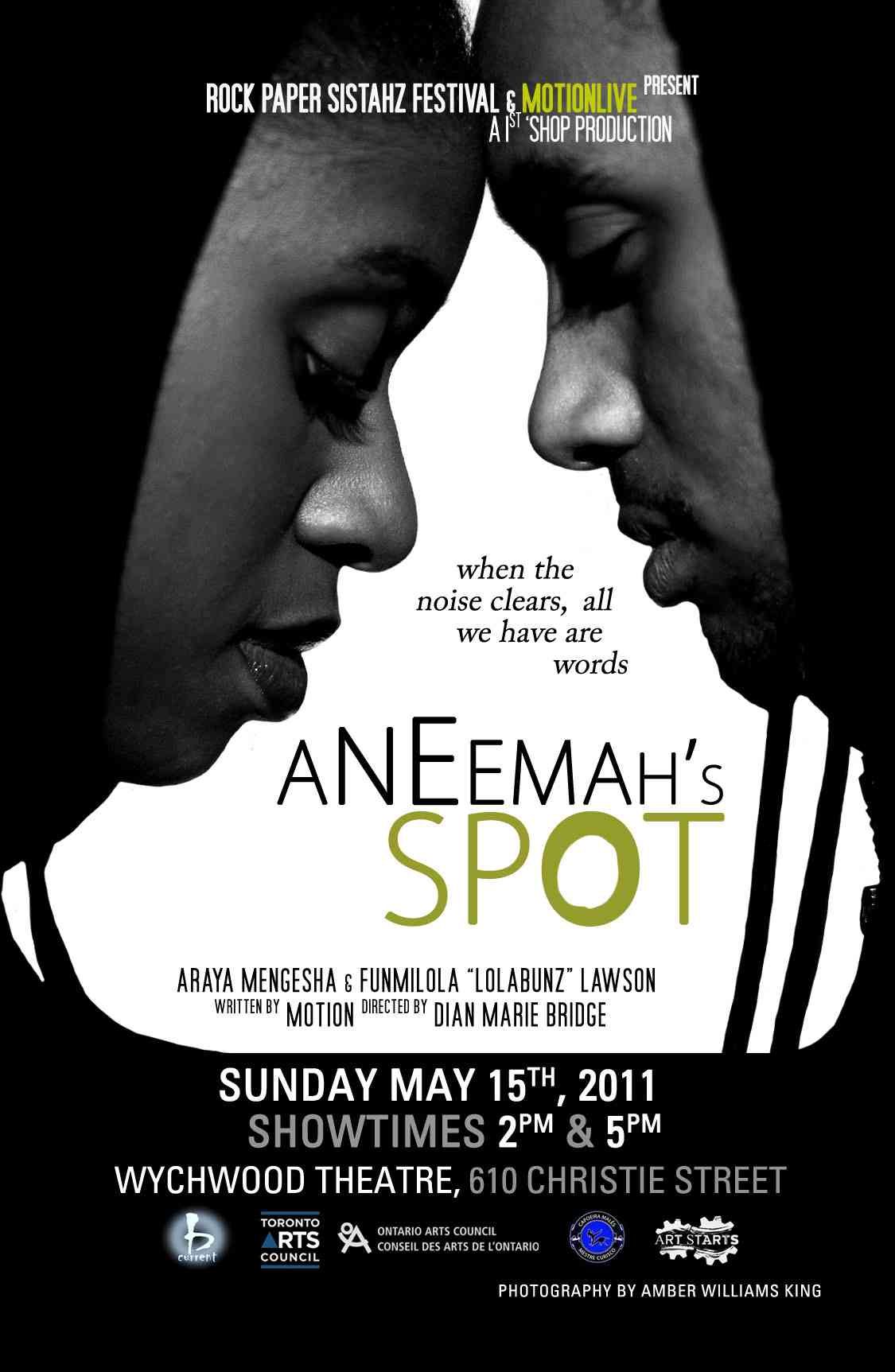 DANCING TO A WHITE BOY SONG @ Summerworks Festival 2011
3 actors, 3 stories, 3 art forms… A multidisciplinary theatrical creation exploring the issues of youth, immigration, culture and otherness, told through the eyes, voices, and bodies of 3 characters with poetry, movement, music and visual imagery.
CO-CREATED by director Mumbi Tindyebwa Otu, choreographer Meryem Alaoui and spoken word artist Motion, this production will take audiences through a physical, emotional and mental journey exploring the metaphor of what it means to 'dance to the beat of the other.' It will question how we come to define ourselves and relate to one another in our diverse multicultural society. STARRING Esther Kamba, Keriece Harris & Simeon Taole.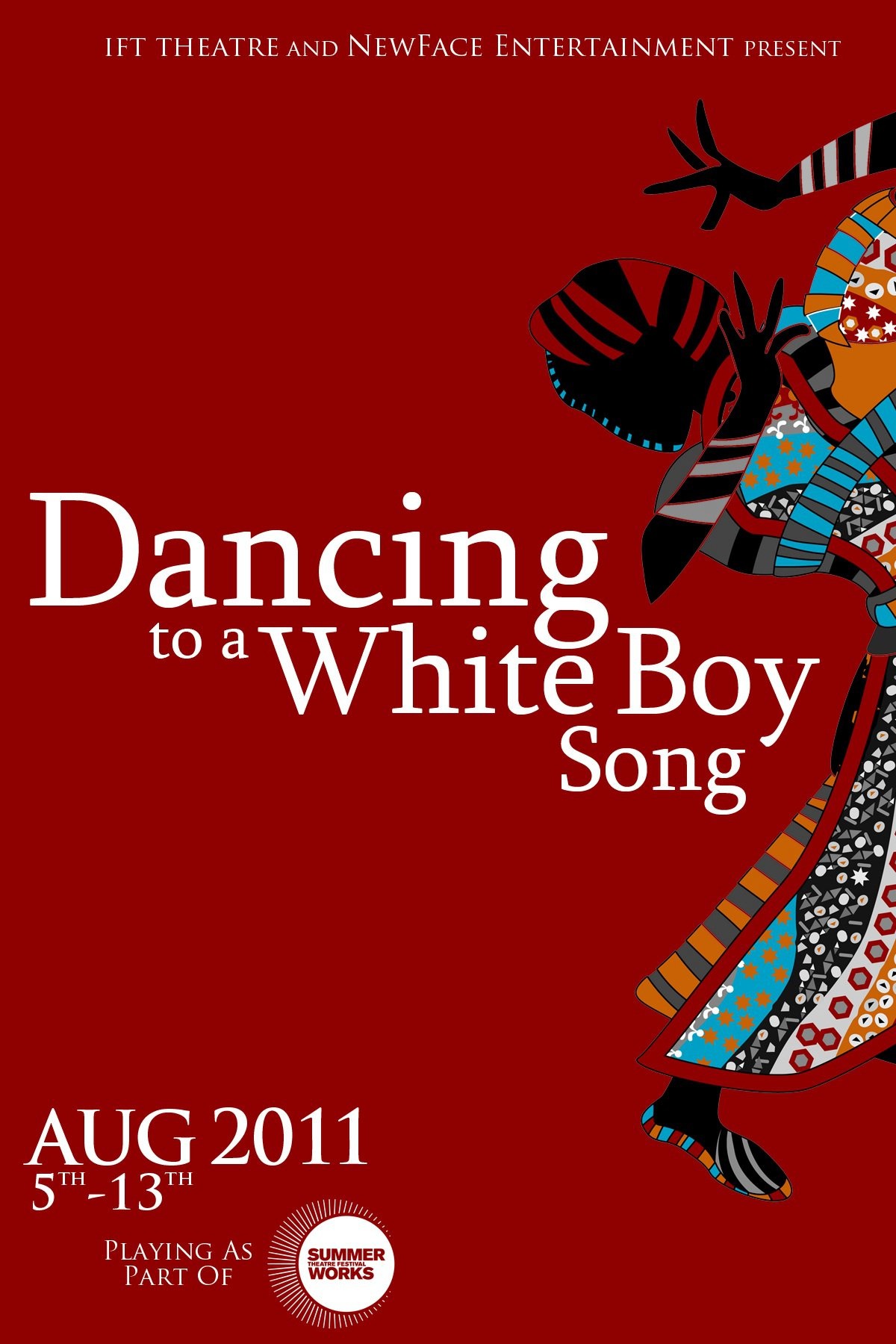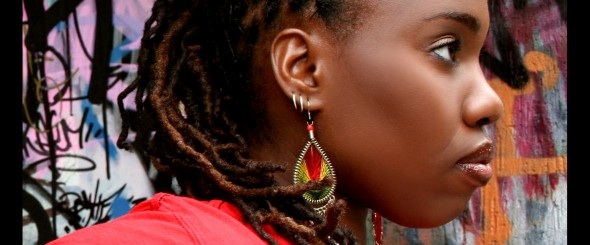 Motion: writer/co-creator dancing to a white boy song
"It's amazing collaborating with director Mumbi Tindyebwa Otu and choreographer Meryem Alaoui, building this creative trilogy."
Poet, lyricist, emcee, Motion spans the realms of music, spoken word and drama, composing for stage & screen. Her dramatic works have been seen and heard at Obsidian's International Black Playwright's Festival, bcurrent's Rock Paper Sistaz, and the Buzz Festival at Theatre Passe Muraille, and she is creating a new work as a member of Factory Theatre's Natural Resources Unit. Motion's latest collection of poetry 40 Dayz is published by Women's Press.
4OUR Woman by Motion
4our Woman is a coming-of-ages story of memory, migrations, identity and inheritance – the entangled portraits of a dead washer, a domestic, an inmate and a crown ward. The play is the story of women who walk the precarious line between death,rebirth, and the living in between.
Starring: Andrea Scott, Virgillia Ashton-Griffith, Sharon Forrester & Dienye Waboso