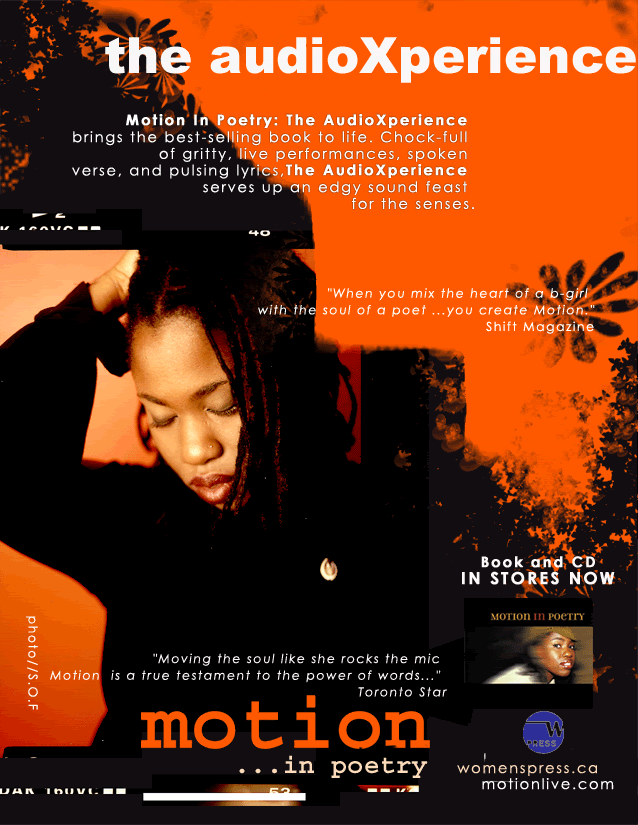 "Her voice is suave steel that will make you feel the funk of life, the blues of existence, the rap of rhyme and the neo-soul of resistance." – George Elliott Clarke, Governor General Award Winning Poet
Readers Review:
~This book is amazing, it is the reason i fell in love with poetry when i was in grade 10. My english teacher chose her poem to read to start off the poetry unit and ever since then I havent turned my back on poetry… -Wemi
~This book is so amazing. I read it while on the subway to go to work and missed my stop several times because I was so into what I was reading. She is putting really positive messages out there and men, women and children will benefit from taking a look at this book. Check out Stay Strong, my personal favourite. -Ronny
Purchase MOTION IN POETRY ON CHAPTERS.CA.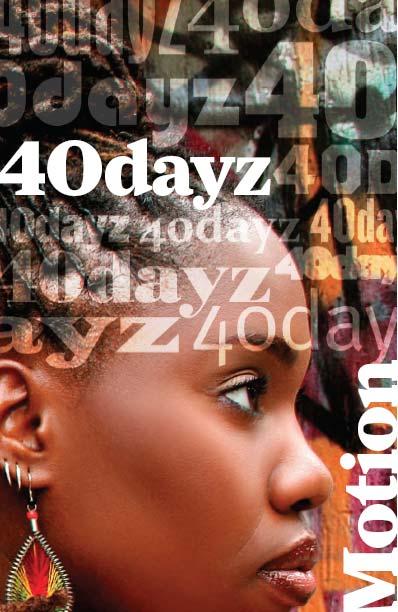 "The eternal wail of woman story permeates the lyrics of Motion's poetry. Her seat is Toronto but her vision ranges across the expanse of the African Diaspora, and like the shamaness Madame Laveau she incants tales of loss, rage, sorrow, healing, love, and power. Motion's work has the ethereal quality of a Dionne Brand and the immediacy of an Amiri Baraka. Thus, in the tradition of her ancestor poets, Motion uses poetry to transform the world.…In the tradition of her ancestor poets, Motion uses poetry to transform the world."
– Afua Cooper, Author of The Hanging of Angélique.
Reviews:
~40 dayz, is an urban, funk anthem for the T.Dot… -T.L Cowan, Canadian Literature
~There has always been in Motion's writing an ownership of words – and a willingness to bend them to her will, a fearlessness when it comes to digging around in uncomfortable emotional spaces, and an acknowledgment of the power of her voice.            -Joanne Hillhouse, Antigua Observer
Purchase 40 DAYZ on CHAPTERS.CA.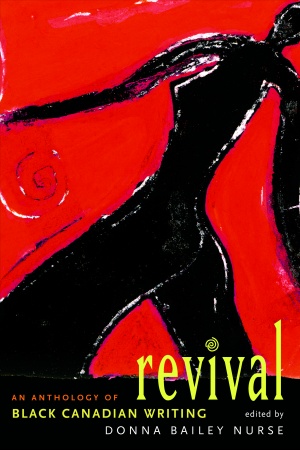 REVIVAL: Anthology of Black Canadian Writing
Featuring Motion/ Jemini /George Elliot Clarke Althea Prince /Afua Cooper /Nalo Hopkinson /Olive Senior, Pamela Mordecai & more…
Drawing on fiction, poetry, and memoir, this anthology brings together an impressively varied selection of outstanding work by both well-known writers and new voices. Donna Bailey Nurse's lively and invaluable introduction deftly explores the various themes and motifs that define and illuminate the meaning of being black, while tracing the evolution of this influential literature through colonialism, post-colonialism, and decolonization.
This engaging collection celebrates a body of writing that holds an increasingly visible and important place within Canadian literature, and stands among the finest literary anthologies in the country.
Purchase REVIVAL: AN ANTHOLOGY OF BLACK CANADIAN WRITING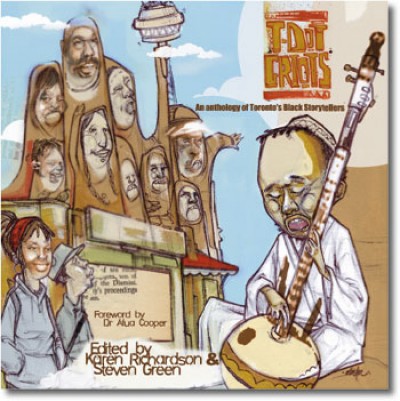 T-DOT GRIOTS: AN ANTHOLOGY OF TORONTO'S BLACK STORYTELLERS: Edited by Karen Richardson & Steven Green
Featuring Motion, Trey Anthony,  Ian Kamau, Weyni Mengesha, Naila K. M. Belvett, Travis Blackman, Del F. Cowie, Da Original One, Jabari Elliot, heronJonse, Hajile Kalaike, Dwayne Morgan, Al St. Louis, Unblind, Wendy Vincent and more…
Purchase T-DOT GRIOTS on AMAZON.COM.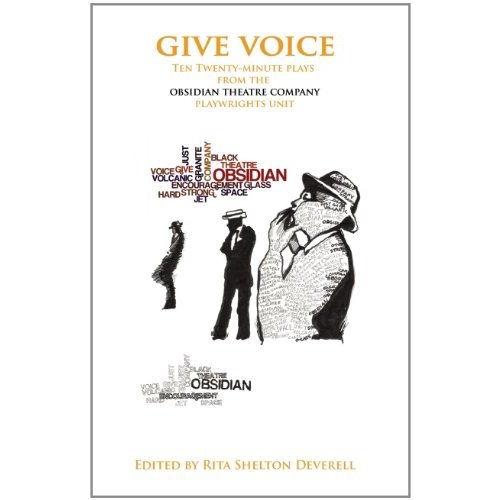 GIVE VOICE edited by Rita Deverell
Developed in Obsidian Theatre's Playwright's Unit, these short plays, in the many dialects of the Black voice, highlight the talent of some of Canada's brightest emerging playwrights.
Featuring new plays by Motion, Dian Marie Bridge, Rachel Lee Rickards and more…
Purchase GIVE VOICE on AMAZON.COM.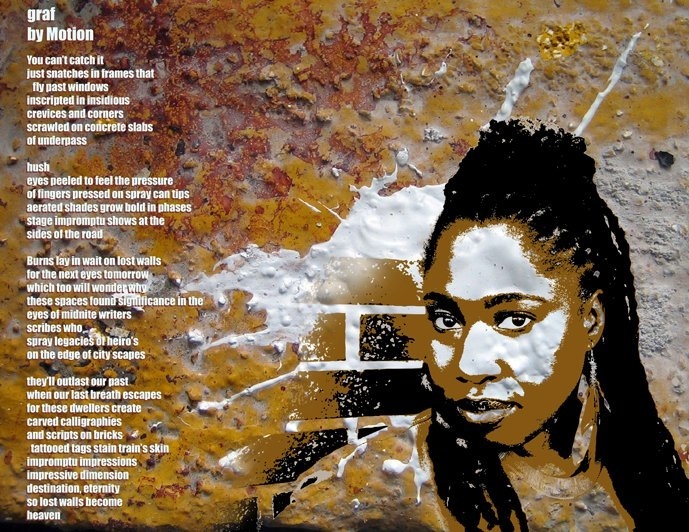 Motion's GRAF on HipHop-Homage.com.
"I asked my Sistah Motion to give me a piece of poetry that I can post on the site and she obliged and gave me this Fresh piece encapsulating Graffiti…" ~ Eklipz
Layout and illustration by Eklipz, Photography by AWK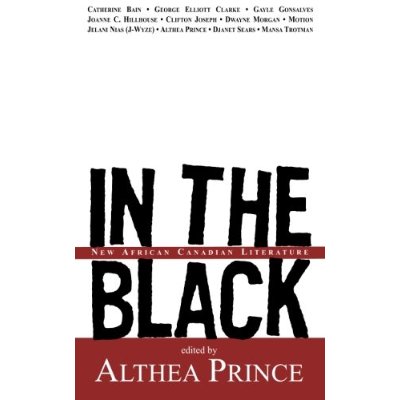 In the Black: New African Canadian Literature
In a mix of short fiction, poetry, dub poetry and hip hop, some of Black Canada's foremost writers from across generations explore history, community, love, and healing. The collection consists of writing from Catherine Bain, George Elliott Clarke, Gayle Gonsalves, Joanne C. Hillhouse, Clifton Joseph, Dwayne Morgan, Motion, Jelani Nias (J-Wyze), Djanet Sears, Mansa Trotman, and the editor, Althea Prince.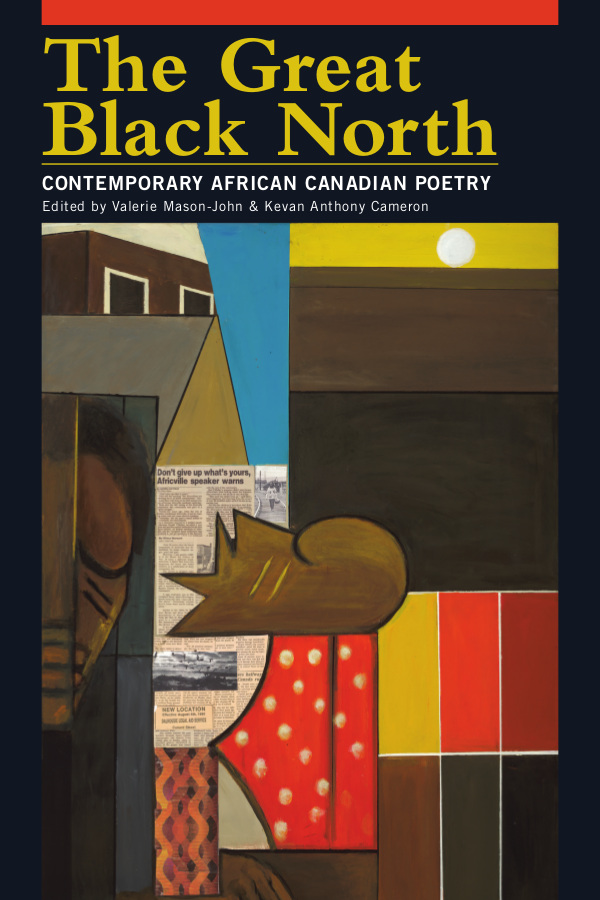 The Great Black North: Contemporary African-Canadian Poetry
Editor Kevan Cameron, Valerie Mason-John  Frontenac House Ltd
The Great BlackNorth is a contemporary remix of the story of Black Canada. Told through th eintertwining tapestry of poetic forms found on the page and stage, The Great Black North presents a poetic picture of the Black Canadian experience.  The Great Black North is written in print, performed as dub poetry, spoken word and slam. Featuring over 90 poets, this book is a poetic blend of literary and oral traditions that recognizes the past and present.
"This anthology is a veritable tour de force into the Antiguan and Barbudan culture, life and times. The works are pithy, salient, beautiful, moving and poignant. Through Antiguan daughter of the soil, Althea Prince, local writers speakespousing and exposing the intellectual creativity of a small nation with big ideas." -Jacqui Quinn-Leandro, PhD. Minister of Education, Antigua & Barbuda.
Purchase at A Different Booklist.